having your own sailboat is now easier than ever before ...
... just inflate it!
Easy to transport
Thanks to a collapsible mast, telescopic rods, rollable textile deck, and especially inflatable floaters, you can pack the boat into just two soft packages and a few short tubes which are no longer than a normal car (3,80). This bit of luggage (weighing cca 96 kg) easily fits into your trunk and on the roof of your car. You don't needto pull a trailer, so travelling is that much more comfortable and cheaper.


Easy to assemble
Thanks to the simple patented construction, you can put the catamaran together, including inflatable floaters and central tension lines (which secure the mast's special extendable function ), in about 60 minutes. Disassembling the catamaran takes about 40 min.


Easy to board all your family or friends
Thanks to the immense amount of air in the large floaters, plus the very solid construction (the lower cables hold up to 12 metric tons), the EasySail catamaran boasts a capacity of up to 650 kg, which is 3 to 5 times more than other crafts in its category. This, together with the largest deck in its class (12 m2), enables up to 6 - 8 people on board, so you can comfortably take off on a sailing adventure with your entire family or friends without fear of being tipped by larger waves!


Easy to board and disembark
The tough but flexible floaters with reversible keel and rudder let you park practically anywhere. You can ride the boat up onto the beach, park at rocks, cliffs, docks, and other boats, letting you get on and off the deck without even getting wet.


Easy to sail
Operating the EasySail catamaran is unbelievably easy - absolute beginners, even children can operate it without difficulty.
The wide floater span guarantees the boat true stability, while the special narrow sails react to the wind flexibly and ideally. The light yard is situated high above the deck, so even an unskilled crew doesn't have to worry about being knocked in the head and into the water. The combination of these three factors lets you sail even during high wind gusts. Sailing, then, is very safe, and the catamaran isn't in danger of overturning under normal conditions. In the hands of a skilled sailor, of course, EasySail transforms into a quick and agile craft with a surprisingly decent rise against the wind (40°) and low draft.


Easy to anchor
After you've finished your EasySail ride, you can easily pull the boat right up onto the beach thanks to the flexible floaters (which is out of the question with other solid-floater boats, due to the risk of damage). Or you can simply disassemble it. In either case, you don't have to anchor or pay docking fees. The floaters are made from a highly strong material with a protective lower layer, so you can safely drag the boat even across a rocky beach. With 2 to 4 people, the catamaran can be easily carried to the safety of the campsite or shed.


Easy to repair
It's hard to damage anything on the EasySail catamaran. Probably the only thing which can happen is that one of the 4 independent floater chambers could rupture as a result of careless manipulation across dry land. It this should happen, just patch the hole, even when it's wet.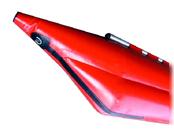 ... click to enlarge ...


Easy to store
All your problems with off-season boat storage are over with EasySail! The collapsible catamaran easily fits into a corner of your garage, basement, attic, shed or even apartment.


Easy to buy
Considering the high user value and reasonable price of this "inflatable technology", EasySail is truly a great buy, as well as a good investment for dealers. What's more, we have set up an Internet service

which helps you find another potential "EasySailor" in your town or area, and after working it out, you can split the cost of a purchase! We offer possibility to buy the EasySail with monthly payment (leasing) also.


EasySail is also ideal for:
· sports rental facilities
· travel agencies
· sports and interest clubs
· recreational centres, hotels, beach resorts
· children's summer camps
· scientific expeditions and adventure (motored version)
· rescue teams and fire-fighters (motored version)
· fishermen (motored version)