Patent-protected structure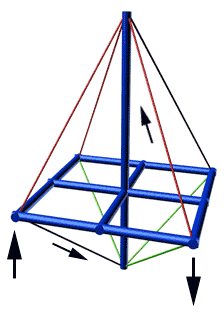 Non-traditional patented structure of EasySail has broken all ideas of getting torsion strength in catamaran without the board's area diminishing. On the contrary, the unrivalled enlargement of the board reinforces the structure additionally, using the system well-proven in ultra-light planes. Uniqueness of this ultra-light and cheap concept has been proved by successful crossing over the Atlantic Ocean in spring 2000 which drew great attention of media, yachters as well as of the general public and customers (see below).
| | |
| --- | --- |
| Length of the boat ..... | 4,80 m |
| Width of the boat ..... | 3,40 m |
| Weight of the boat ..... | 96 kg |
| Height of the boat ..... | 7,50 m |
| Draught of the boat ..... | 18 cm in 380 kg of load (90 cm with the launched keel blade) |
| Board space ..... | 12 m2 |
| Bearing capacity ..... | 6 - 8 people (650 kg) |
| Sails area ..... | 11 m2 |
| Air volume in the floats ..... | 2.400 liters |
The whole EasySail boat is made from materials of high quality and strength. Moreover, individual components have been rated for a larger loading than the maximal load during normal operation. All important parts (floats, structure material, etc.) are manufactured in accordance with ISO 9000, 9001, 9002, and CE standards.
Two-chamber floats are made either from Nitrilon™ or Mirasol™ materials fastened together by gluing. The said materials guarantee long durability of the floats and a long-term resistance to UV radiation influence and resistance to tearing (the floats can be sold individually as well).
The board is made from a well-proven textile material Cordura™.
The sails are sewn from Mylar™ textile.
The structure including the mast is built from light AlMgSi1 alloy profiles, resistant even to salt water. Moreover, this alloy has a special thermal treatment to be harder. There is an eloxal coating on the structure. All connecting components are made from non-magnetic stainless steel resistant to salt water.
Testing cruises and the following use of EasySail for holiday trips have shown perfect properties of the boat's new structure. To test the patented concept in a very special way, we decided to cross the Atlantic Ocean. We started with our SECTOR boat on March 10, 2000 from the Spanish harbor Cadit and after an intermediate landing in Las Palmas (Canary Islands), we crossed the Atlantic Ocean after the 26-day sail. The structure of EasySail survived this rather troublous test 6,700 km (3.600 nautical miles) long without any single damage. Daily record of 304 km (164 Nm) and maneuvering abilities have convinced us definitely of other extraordinary properties of the boat as well.